Exterior Painting in Lauderhill, Florida
Is it time to paint the exterior of your Lauderhill house? Is staining that neglected deck a "must" this season? Call Lauderhill's painting contractor of choice when it comes to a quality exterior painting done right: Two Nations Painting & Home Improvement LLC. We offer quality exterior painting services and pricing that won't break the bank. What's more, our exterior painting crews have the skills, expertise, and passion to paint just about any exterior surface you can come up with. From decks to shutters to gazebos and siding you need it painted, we'll get it done!
Exterior Painting
.99¢ Sq Ft
expires 11/30/2023
---
Call for a FREE Quote
---
Lauderhill, Florida's Exterior Painting Leader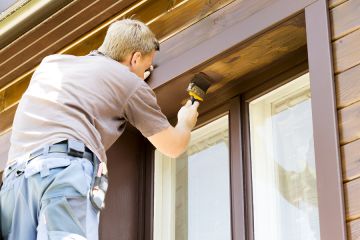 With over 12 years in as a Lauderhill painting business, Two Nations Painting & Home Improvement LLC has been asked to paint lots of different exterior surfaces; and we haven't yet seen a surface that we couldn't paint! Just a few of the exterior painting services we provide include:
Houses
Fences and Gates
Decks and Porches
Gazebos
Light Posts and Railings
Shutters, Trim and Fascia
Commercial Buildings
Exemplary Lauderhill Exterior Painting Services
Two Nations Painting & Home Improvement LLC has earned a solid reputation as a reliable Lauderhill painting contractor who completes every painting job to each customer's highest satisfaction. Work is never rushed. Instead, we take the time to completely prep all exterior surfaces, cover landscaping and furniture and repair, sand and caulk before the first drop of paint reaches the surface. Once the painting your exterior begins, we'll use top quality paint that will keep the surface looking great for years to come. When you call Two Nations Painting & Home Improvement LLC for your next exterior painting job, you won't want to call a different painter again!
House Painting in Lauderhill
The most commonly frequently painted exterior for Two Nations Painting & Home Improvement LLC painters are houses. Painting exterior homes in Lauderhill is our favorite work. Want to change the color of your house? Just ask. We can bring along color samples and help you select complementary colors for your house, trim, shutters, and doors. You'll delight in your newly painted Lauderhill house as much as we'll delight in painting it! Call (754) 345-0488 today for a free, reasonably priced quote.
Fence, Deck and Gate Staining in Lauderhill
Like painting, staining is commonly used to cover and protect exterior wood surfaces. Stains quality and choices have come a long way through the years. They are much more durable than they have been in years past. In addition, there is a vast selection of hues and levels of opacity to choose from. Tell us the look you're going for, and Two Nations Painting & Home Improvement LLC's Lauderhill deck staining crew can help you achieve it!
---
Call for FREE Exterior Painting Quote
---
WHAT CUSTOMERS ARE SAYING:
5★★★★★ - "Pablo is great, very patient, nice and clean job.
He already did my friends house and other work.
Definitely recommend his services"

Yaniv B., Exterior Painting in Coconut Creek, FL

2022-08-31

5★★★★★ - "We were very pleased with Pablo's work. I recommend him very highly."

Steven R., Drywall Repair in Coconut Creek, FL

2022-09-30

5★★★★★ - "Pablo of Two Nations Painting provided excellent service. He is professional, neat, dedicated and is an excellent painter. He takes great pride in his work and I highly recommend his services."

Joan T., Interior Painting in Coconut Creek, FL

2022-08-31

5★★★★★ - "Two Nations Painting painted Practically every wall in my home. Pablo worked with me on various changes throughout the process and completed the job in a timely manner. I recommend you give this company a chance to earn your business, they do good work."

Derek D., House Painting in Coconut Creek, FL

2022-02-23

5★★★★★ - "I am really happy with the work they provided. I appreciate that they were punctual and took care of my floors. I recommend them to anyone in need of getting a piant job or your floors done!"

Julio R., House Painting in Margate, FL

2022-02-23

5★★★★★ - "Love this company! My friend recommended it and it was worth it! They were super patient with me and understood everything I asked!! Super happy 😃"

Laura A., House Painting in Pompano Beach, FL

2022-02-23

5★★★★★ - "Had an amazing experience with them! Very professional and organized!! Paint inside my house, and laminate floor.. I'll call them back for sure !! 👏🏼⭐️"

Fatus A., House Painting in Coconut Creek, FL

2022-02-23

5★★★★★ - "Two Nations was the best, they made my project feel super easy and perfect!! I will hire them again 🙂🙂"

Mikaela

2021-08-11

5★★★★★ - "Great job.Excellent service"

Bev C., Painting in Coconut Creek, FL

2021-08-10

5★★★★★ - "Very punctual, on time for each appointment and at the start of the job also. Started and completed the job as scheduled. Gave very detailed quote. This company is detailed oriented and they do an A++ job. Their craftsmanship was way above average. I would recommend this company to anyone."

Angela E, Painting in Fort Lauderdale, FL

2021-06-18

5★★★★★ - "I love them! Super helpful and patient! Love how my house looks now ... I will definitely recommend this company and hired them again..."

Sonia D, Exterior Painting in Boca Raton, FL

2021-06-18

5★★★★★ - "Two Nations Painting is a reliable company, super professional and responsible...always on the details, super happy with their work..I will recommend them to all my family and friends..."

Jose M, Painting in Boca Raton, FL

2021-06-18

5★★★★★ - "Great quality work and great customer service. Punctual and always responded to all messages in a timely manner. Would recommend them. Trustworthy as well."

Mercedes M, Painting in Fort Lauderdale, FL

2021-06-18

5★★★★★ - "Out of all the contractors that I worked with, Two Nations was the absolute best. Amazing prices, reliable, on time, super work, and the nicest people. I am thrilled with them. Also they scheduled my painting so incredibly fast. I highly highly recommend this company!!"

Randi R, Painting in Delray Beach, FL

2021-06-18

5★★★★★ - "Very reliable, great work, fast and affordable! Pablo and Laura are a great duo and I will definitely be using them again!!!!"

Maddy L, Painting in Boca Raton, FL

2021-06-18

5★★★★★ - "Great experience. Owners were very professional and the work was outstanding. I would use them again for a painting project at my home."

Bob P, Interior Painting in Parkland, FL

2021-05-20

5★★★★★ - "Two Nations were very professional overall in their work performance!! Their work was neat, and they didnt waste any paint either. Thanks."

Christopher B, Painting in Boca Raton, FL

2021-05-20

5★★★★★ - "I highly recommend this company! Not only are their prices very fair, their communication, quality of work, and flexibility are outstanding. Pablo worked around the clock over the holiday week to get the paint completed before the movers arrived, and I am very appreciative. Paint looks wonderful as well!"

Kimberly G, Painting in Boca Raton, FL

2021-05-20

5★★★★★ - "I had my home painted in interior and exterior by Two Nations. They were very professional and meticulous and the painting came out great! I highly recommend them as I am very happy with the job they do for me!"

Michael K, Painting in Delray Beach, FL

2021-05-20

5★★★★★ - "Expert work. Trustworthy. Great price!"

Cheryl R, Painting in Delray Beach, FL

2021-05-20

5★★★★★ - "Communication and follow-through was fantastic. Pablo was a joy to work with who really took pride in his work."

Eric J, Painting in Boca Raton, FL

2021-04-22

5★★★★★ - "Great experience. Will definitely hire again!!!"

Debby L, Painting in Deerfield Beach, FL

2021-04-22

5★★★★★ - "The company is reliable, very nice and very professional. They do an amazing job. I am very happy and would recommend them to others."

Robin D, Painting in Coral Springs, FL

2021-04-22

5★★★★★ - "Pablo gave me honest, fair quotes and delivered a beautiful job quickly and as promised. He is fantastic if you can get his time!"

Lisa Y, Painting in Boca Raton, FL

2021-04-22

5★★★★★ - "I;m a business owner and have hired Pablo and his Team more than once, so I'm confident in recommending Two Nations Painting to others. Besides being on time, with all the needed tools and labor for the jobs, and extremely efficient and careful, both times Two Nations estimate was one of the lowest out of 6, yet his finished work came out better than expected. Moreover, the consistent quality of their work made it obvious they are professional painters. Overall, hiring Pablo and his Team was a very good experience, and I'm planning on them coming back to paint my entire fitness facility. Bill Kyser, Owner, CLUB 110 Wellness Center"

Bill K, Painting in Fort Lauderdale, FL

2021-04-22

5★★★★★ - "On time and completed a job that was tedious in a reasonable amount of time. Honest and straight forward."

Christopher P, Painting in Fort Lauderdale, FL

2021-04-22

5★★★★★ - "Very nice job and a good painter. Also very curtious."

Linda C, Painting in Pompano Beach, FL

2021-03-24

5★★★★★ - "I had a very good experience with two nation painting. I would recommend them to my family."

John F, Painting in Fort Lauderdale, FL

2021-03-24

5★★★★★ - "This company exceeded our expectations. Excellent and professional work ethics, on time every day and also very courteous workers with quality results. Our association will highly consider them on any future bids based on their excellent service provided."

Rene V, Exterior Painting in Deerfield Beach, FL

2021-03-24

5★★★★★ - "Seemed willing to satisfy customer even on a smaller job"

Don B, Painting in Wellington, FL

2021-03-24

5★★★★★ - "Excellent work, prompt, polite and takes pride in the finished product."

Joan T, Interior Painting in Pompano Beach, FL

2021-03-24

4★★★★☆ - "Overall it was a good experience. Pablo was on time for both the quote and the actual job. He finished in less than a full day and even came back to complete a small item that was accidentally left unfinished. I would recommend Two Nations Painting and Home Improvement, LLC to others."

Denise C, Painting in Coconut Creek, FL

2021-03-10

5★★★★★ - "Excellent service !"

Roena W, Painting in Pompano Beach, FL

2021-03-10

5★★★★★ - "Polite, professional and punctual, his work is impeccable and I highly recommend Pablo, I am very pleased with his work and how quickly the project was completed."

Patricia P, Painting in Fort Lauderdale, FL

2021-03-10

5★★★★★ - "2 Nations Painting was easy to work with, stayed within my budget, and delivered excellent customer service, would highly recommend."

Wendy B, Painting in Pompano Beach, FL

2021-03-10

5★★★★★ - "The experience was excellent I had no problems everything was done perfectly and timely manner."

Tina J, Painting in Pompano Beach, FL

2021-03-10

5★★★★★ - "PLEASANT PROFESSIONAL FINISHED JOB IN ALOTED TIME WOULD RECOMMEND AND USE AGAIN"

Linda S, Painting in Pompano Beach, FL

2021-02-25

5★★★★★ - "Professional and very good. Im very happy with the job."

Johanna, Painting in Pompano Beach, FL

2021-02-25

5★★★★★ - "Exterior painting of my entire house. Highly recommend to anyone! They are professional, no complaints."

Javier A, Exterior Painting in Oakland Park, FL

2021-02-25

5★★★★★ - "They were really professional. Got the job done on time."

Laura A, Painting in Lazy Lake, FL

2021-02-25

5★★★★★ - "He came on time and that was really good."

Gabriel C, Painting in Lazy Lake, FL

2021-02-25

5★★★★★ - "I hired them for a bathroom remodel which I loved and ended up doing my floors too... super 😃"

Vanessa in Coconut Creek, FL

2021-02-24

5★★★★★ - "Very professional and detail oriented. They do an awesome job and I would highly recommend Mr. Caceres."

Claudia Batella Deluca in Boynton Beach, FL

2021-02-10

5★★★★★ - "excelente mío RECOMENDABLE"

Dainia Mieres in Pompano Beach, FL

2021-02-10

5★★★★★ - "100% professionals.recommendable"

Leo Caceres in Coral Springs, FL

2021-02-10

5★★★★★ - "Excelet service! I will recomend trem ... 👍🏻"

Ceci Artigas in Pompano Beach, FL

2021-02-10
---
Call for FREE Exterior Painting Quote
---